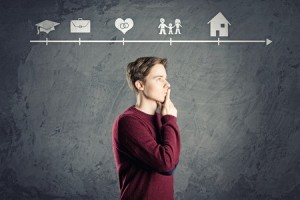 As 2016 begins, we often reflect on the successes and failures of the past year and look forward to new beginnings by creating Resolutions as a fresh year unfolds.
Typically most people's goals include getting healthy, travelling more and getting more fun out of life. Sometimes these goals can be financial ones, such as eliminating debt or saving up for a desired purchase. It may even include real estate. Perhaps you are thinking of "right-sizing" to a home that better fits your needs and current lifestyle.  Yes, you heard me correctly: buying a larger or smaller home can bring more happiness into your life!
I recall when I moved last year, it was to enjoy a better lifestyle. My home had to have a bigger yard ( my hubby and I love to garden!) and have enough guest rooms to allow family or friends to stay overnight. We also wanted less stairs for when we became older and stairs might be difficult.  The solution? a renovated bungalow on a large mature lot, with plenty of parking for my two kids.
So what about you? How does real estate fit into your goals for 2016?  Here are some ideas to get you started!
1.) A New Home can Give you More Space
I know, this one is obvious, but a lot of people put up with a lack of space for far too long. Not having dedicated spaces for everyone can be stressful, particularly when people come to visit. Parking can also be an issue when children get older and start to drive. You can make a large space smaller, but it is difficult to make a small one bigger.
2.) A new Home can Provide Simplification to Your Life
As we age, the needs we require in our home change too. Perhaps the house that was perfect for a family of 5 is now too large to manage when it is just the two of you in the house. Downsizing can ensure that you are maintaining only the amount of house you need. With that comes less upkeep, less property taxes and utility use, and more free time. Why make things complicated?
3.) A New Home can be a Better Fit for your Hobbies and Interests
Perhaps you like to putz around in the garage. Or your family loves to watch movies together on a regular basis. Hobbies such as scrap booking, cooking, woodworking and tinkering with old automobiles necessitates a dedicated use of space that may not be possible in your current home.  This can provide additional enjoyment without encroaching on your everyday living space.
4.)  A New Home can Bring you Closer to Friends and Family
People often want to live close by to people they know and enjoy.  After you move, you can't change your neighbors, so if you move to a place where you have friends, that is icing on the cake! Or, maybe you have a neighbor you don't get along with?  Either way, you are making a move that makes sense!
5.) A New Home can be a Source of Pride
I believe everyone should be proud of their home. It doesn't have to be the biggest house, or the fanciest house- it just has to be a good fit for you!  Whether it's  for aesthetics, functionality, or a neighborhood with amenities you enjoy, your choice of home should reflect a source of pride – a place you are happy to call home!
Is owning a new home in Edmonton or Sherwood Park part of YOUR Resolutions for 2016?  Contact me, and lets discuss some options!